Sweet Fortune's shrine to Kym Valentine
The Info Page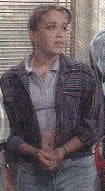 Kym Valentine has been acting, dancing, singing and performing since the age of five and first began performing on stage and in shows at the age of nine.

She is seen all around the world, five days a week in the Grundy show 'Neighbours', and has become a media celebrity particularly in her home country of Australia. She assisted in teaching drama at Campbelltown Drama School and completed many photographic and modelling assignments including :-
Pal Dog Food, Penguin clothing catalogue, My Juice is Fruity - bill board, 'Home & Away' clothing range catalogue and Readers Digest for children's illiteracy.

Kym's accolade include performing in many 'Eisteddfods' between ages 4-9 and has won at least 24 prizes in dancing and singing.

Her theatre credits include the children's role of Betty in THE CRUCIBLE at the University of Technology in Sydney. Dorothy in THE WIZARD OF OZ which toured privately and commercially, the lead role of White Dove in HIAWATHA and the ELECTRIC HORSEMEN Show with Greg Anderson.
She has appeared in pantomime including the title role 'Cinderella' at the North Wales Theatre, Llandudno.


alex_fortune@bigfoot.com

BACK TO MAIN PAGE